Regular price
Sale price
$42.00 AUD
Unit price
per
Sale
Sold out
MOTHER SPF30 is a hydrating, everyday physical sunscreen using only 9 sustainably sourced and eco certified ingredients.
Reef Friendly & Eco friendly

100% Vegan

100% Natural & Organic

Family Friendly

Suitable for Sensitive Skin

4 hours Water Resistant

Broad Spectrum

3 Year Expiry

Australian Made & Owned  
THE ALL NATURAL SOLUTION
All MOTHER SPFs natural ingredients are sourced from known and trusted suppliers. MOTHER SPF only uses 9 ingredients because she believes less is more. 

MOTHER SPF is formulated differently from your usual, run of the mill sunscreens – We use no water, while other sunscreens can contain up to 85% water. The absence of water means MOTHER SPF requires no preservatives, since microorganisms are unable to grow in a water-free environment (if you don't know, now you know).

Bonus: They require none of the other synthetic compounds required when water is present - emulsifiers, stabilisers and thickeners. In short, when we made the decision to say bye to water, we made room for pure ingredients - unrefined, and unchanged from their natural form. 
Benefits

MOTHER SPF utilises a breakthrough technology which allows Zinc Oxide particles to remain highly transparent on the skin. These particles have a porous surface texture, like a sea sponge, so they don't reflect as much visible light as standard non-nano zinc oxide particles and are therefore less whitening on the skin.

These micronized Zinc Oxide particles offer the same outstanding safety and efficacy of standard non-nano zinc oxide meaning it won't absorb into your skin, it won't harm the environment, and it provides excellent photostable broad spectrum protection from UV rays.

In the heartbreaking circumstance that you do notice a white cast. It should be minimal and we recommend warming MOTHER between your hands before application as this makes it easier to rub into your skin and allows for a smoother makeup application that will last the length of the day.



How to Use

Hopefully, apply liberally every single day for the rest of your life, in the AM after skincare and before makeup. Reapply every 2 hours and after activities involving water (or sweat).

After skincare, apply 1/4th a teaspoon of MOTHER AUS SPF to the entire face and massage into the skin. Wait 2 minutes to let the ingredients work their magic and apply makeup over top if desired. MOTHER AUS SPF is designed for the body too (bonus round!), so don't be shy to smother MOTHER AUS SPF anywhere and everywhere for broad-spectrum protection.

Avoid prolonged sun exposure, and make sure you re-apply frequently in accordance with directions. Remember, sunscreen is only one component of sun protection so always wear a hat, protective clothing and eyewear when you're in the sun.

ALWAYS READ THE LABEL AND FOLLOW THE DIRECTIONS FOR USE.Caution: Avoid contact with eyes. Do not use on damaged or broken skin. For external use only. Complies with AS/NZS2604:2021
Ingredients

Every ingredient works hard in MOTHER'S formulation but we all know every Mother has their favourite child and these are ours.

9 Ingredients:
Zinc Oxide
Coco-Caprylate / Caprate
Polyglyceryl-3 Polyricinoleate
Isostearic Acid
Caprylic Capric Triglyceride
Coconut Oil
Castor Oil
Candelilla Wax
DI Alpha Tocopheryl Acetate

MOTHER SPF has zero tolerance for:
Parabens & Preservatives
Chemical UV Filters & Titanium Oxide
Emulsifiers & Detergents
Silicones & Sulphates
Nanoparticles & Phthalates
Gluten & Nut Oils
Fragrance & Essential Oils
Animal testing
Specifications

You will be glad to know, when applying your daily dose of MOTHER SPF, that you are actively playing a part in protecting mother nature.

POST CONSUMER RESIN TUBES: Our tubes are made from the plastic that would normally end in landfill and are safe to use again and again. Functioning as a closed MOTHER SPF packaging loop.

100% RECYCLABLE TUBES: Which means they can and will be recycled. Please send your tubes back to MOTHER HQ when empty and we will make sure they get recycled correctly.

OUTER PACKAGING: Zero, Zilch, Nothing *Boring but no need for it and that's how we role.

MAILING BOXES: Made from recycled cardboard and 100% recyable

INGREDIENTS: Naturally derived, Reef safe, Certified organic where possible, Non GMO, No water, No animal by-products and sustainable sourced

MANUFACTURING: Manufactured in Australia with 100% solar power

COURIER: 100% carbon neutral

PROMOTIONAL MATERIALS: Made from recycled cardboard and printed with vegetable dyes

CERTIFIED CARBON POSITIVE: We have been carbon positive since 2021 and certified by Trace. This means we offset 100% of our emissions by purchasing carbon credits from a range of projects. Oh and we also plant trees!

MOTHER SPF is made in Australia and meets the highest global SPF testing and manufacturing standards in the world. Not only does Australia have the harshest climate but also the most rigorous testing standards. It's a labour love trying to get an Australian sunscreen onto the market and for good reason!

MOTHER SPF complies with the Australian Standard AS/NZS 2604:2012 and registered with the Australian Register of Therapeutic Goods (ARTG )

Sound boring? We agree. All you need to know is that MOTHER SPF is scientifically verified as delivering SPF 30 broad spectrum protection and is 4 hrs water resistant.

ALWAYS READ THE LABEL AND FOLLOW THE DIRECTIONS FOR USE.Caution: Avoid contact with eyes. Do not use on damaged or broken skin. For external use only. Complies with AS/NZS2604:2021
About MOTHER SPF

Mother SPF is a female-founded brand based in Western Australia. MOTHER SPF was born out of necessity when a few years back, Tandia's mother was diagnosed with Cancer.

After extensive research to help her mother reduce the amount of toxic chemicals in her skincare whilst undergoing treatment, Tandia discovered how nasty some conventional skincare products can be and couldn't find a mineral sunscreen suitable for everyday wear, so she decided to be a boss lady and make her own.
Shipping & Returns

Shipping

Australia Post Standard Shipping: $10. Estimated delivery 5-10 days

Australia Post Express Shipping: $15. Estimated delivery 2-5 days.

International Shipping email us for a quote.

Orders are shipped within 3 business days.

View full shipping details.

Returns

View refund policy.
View full details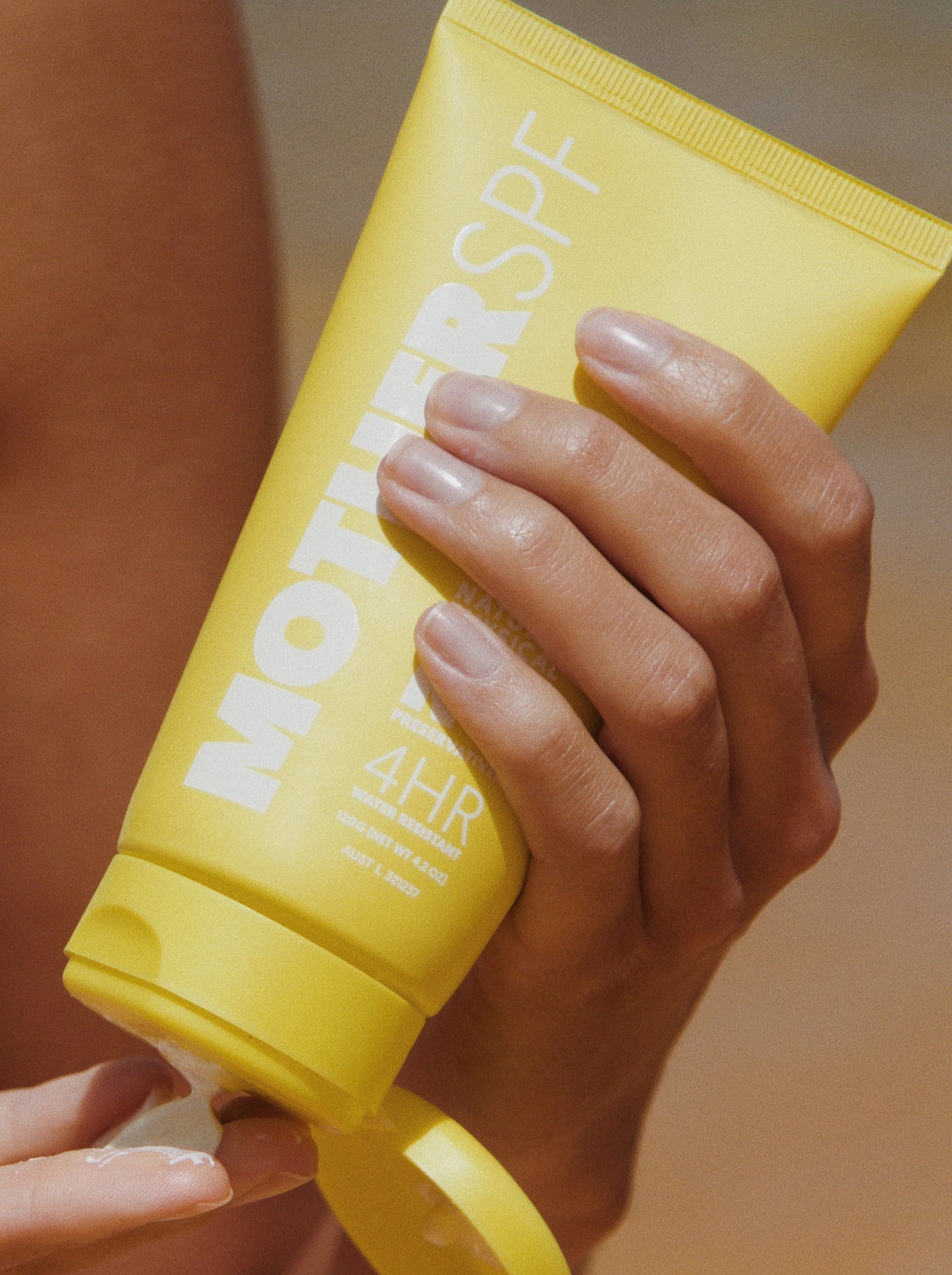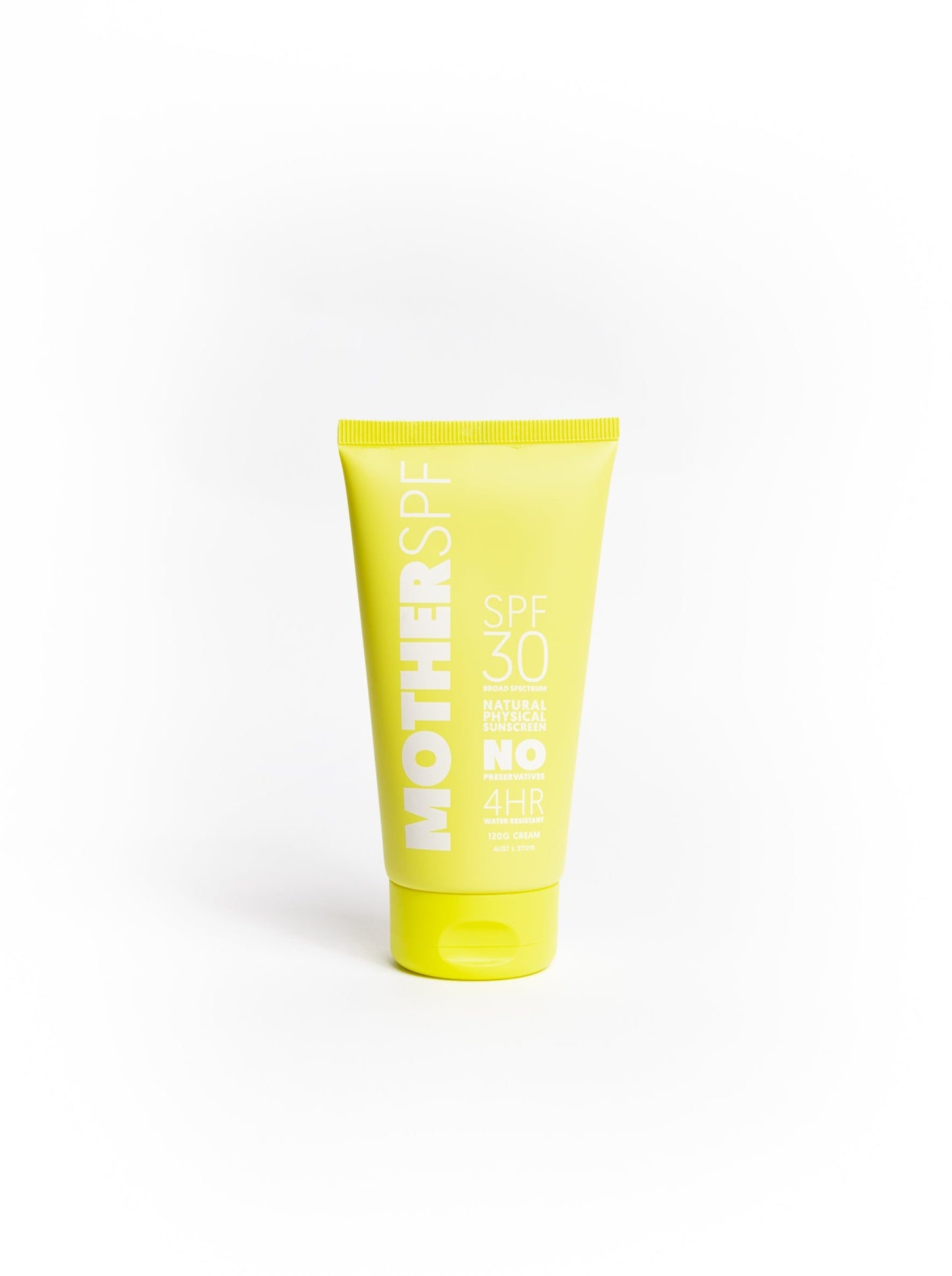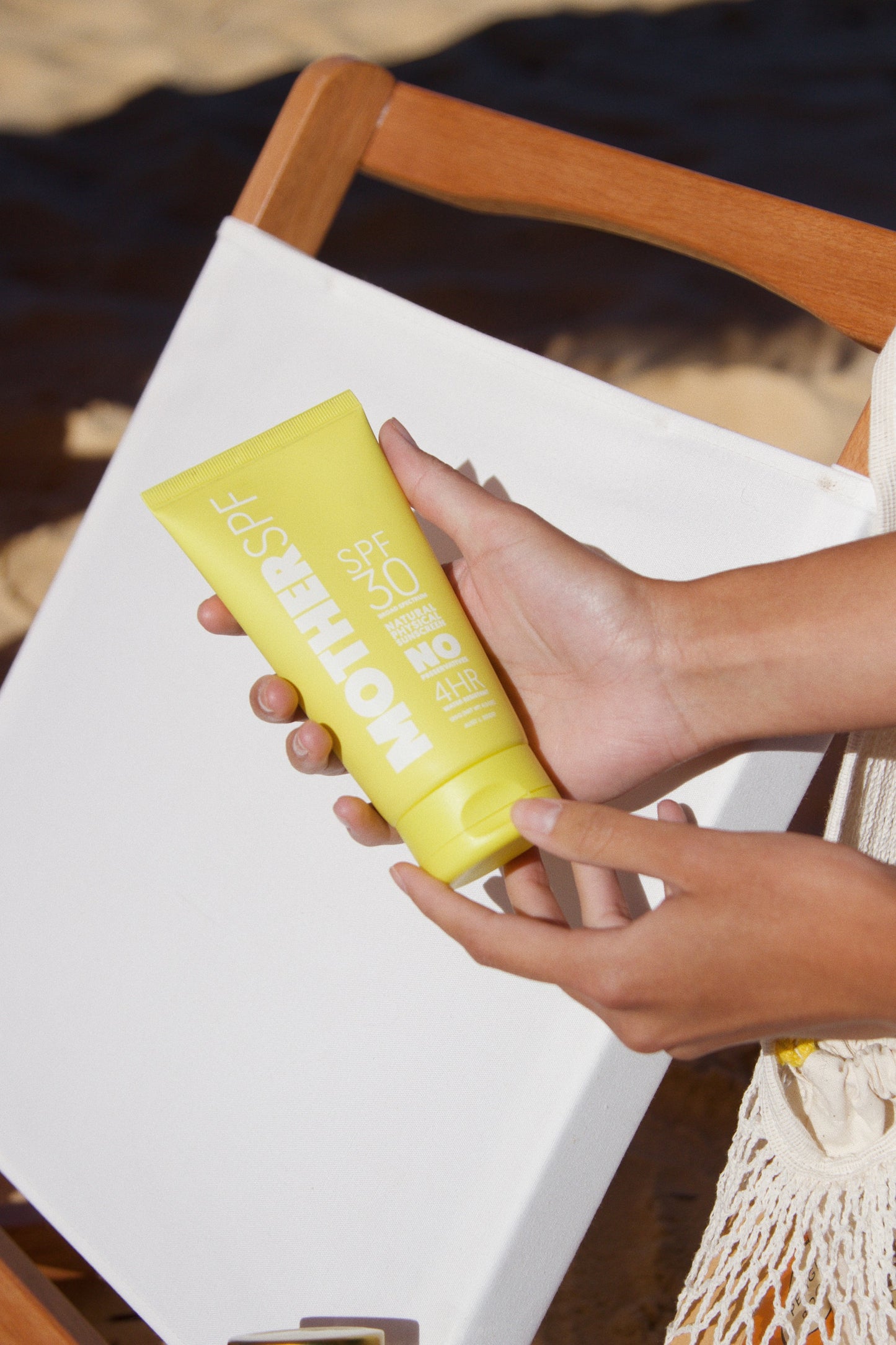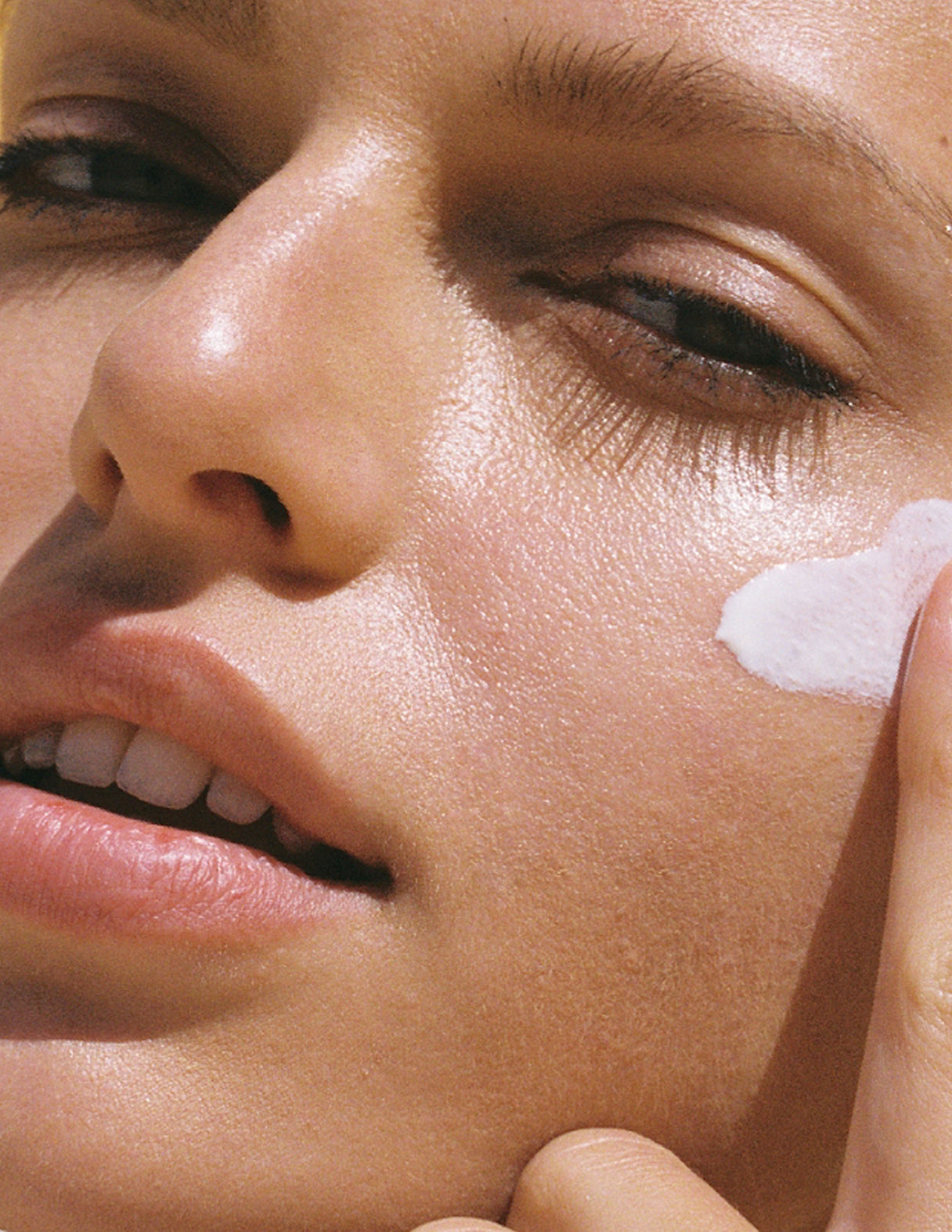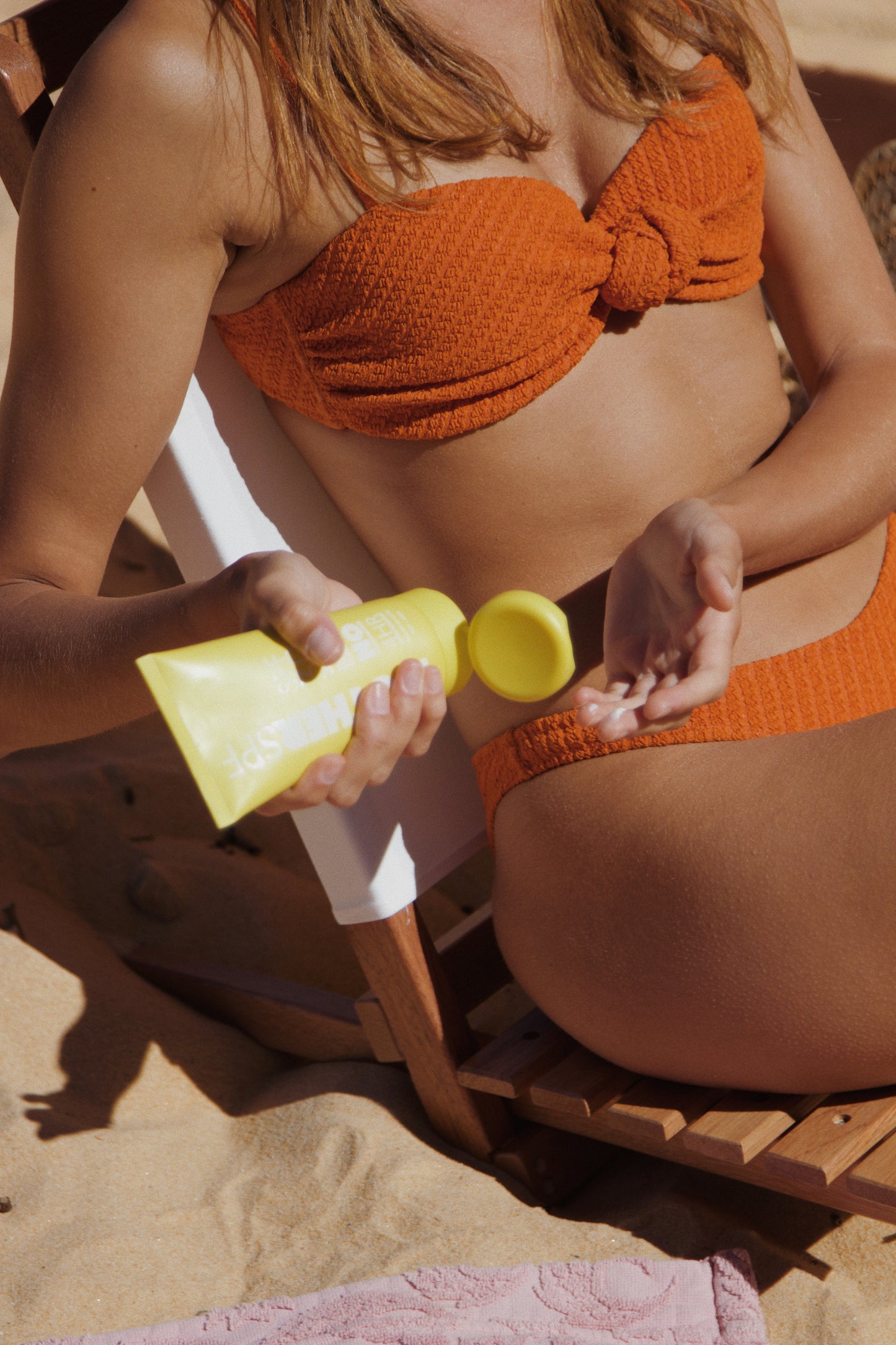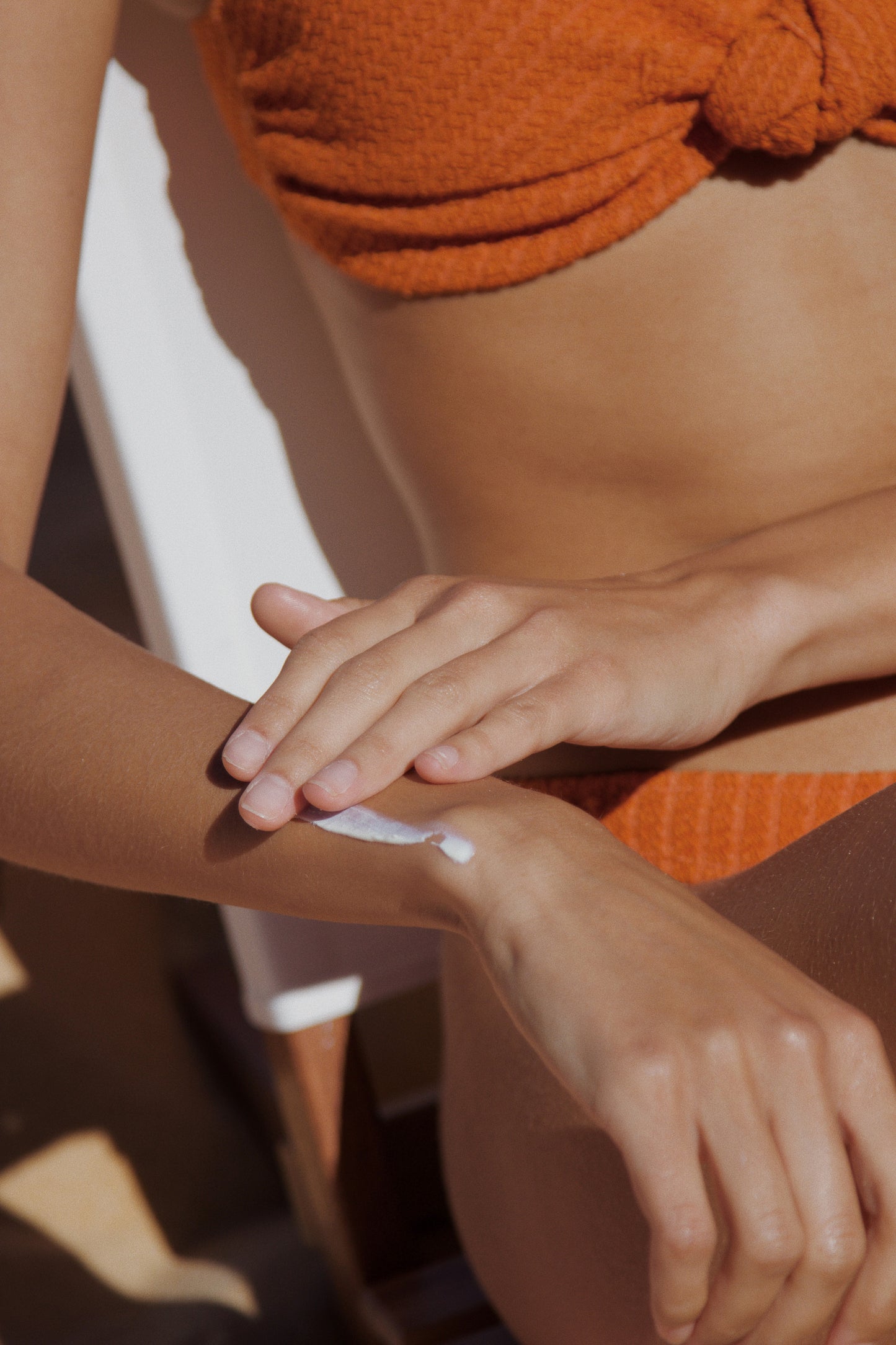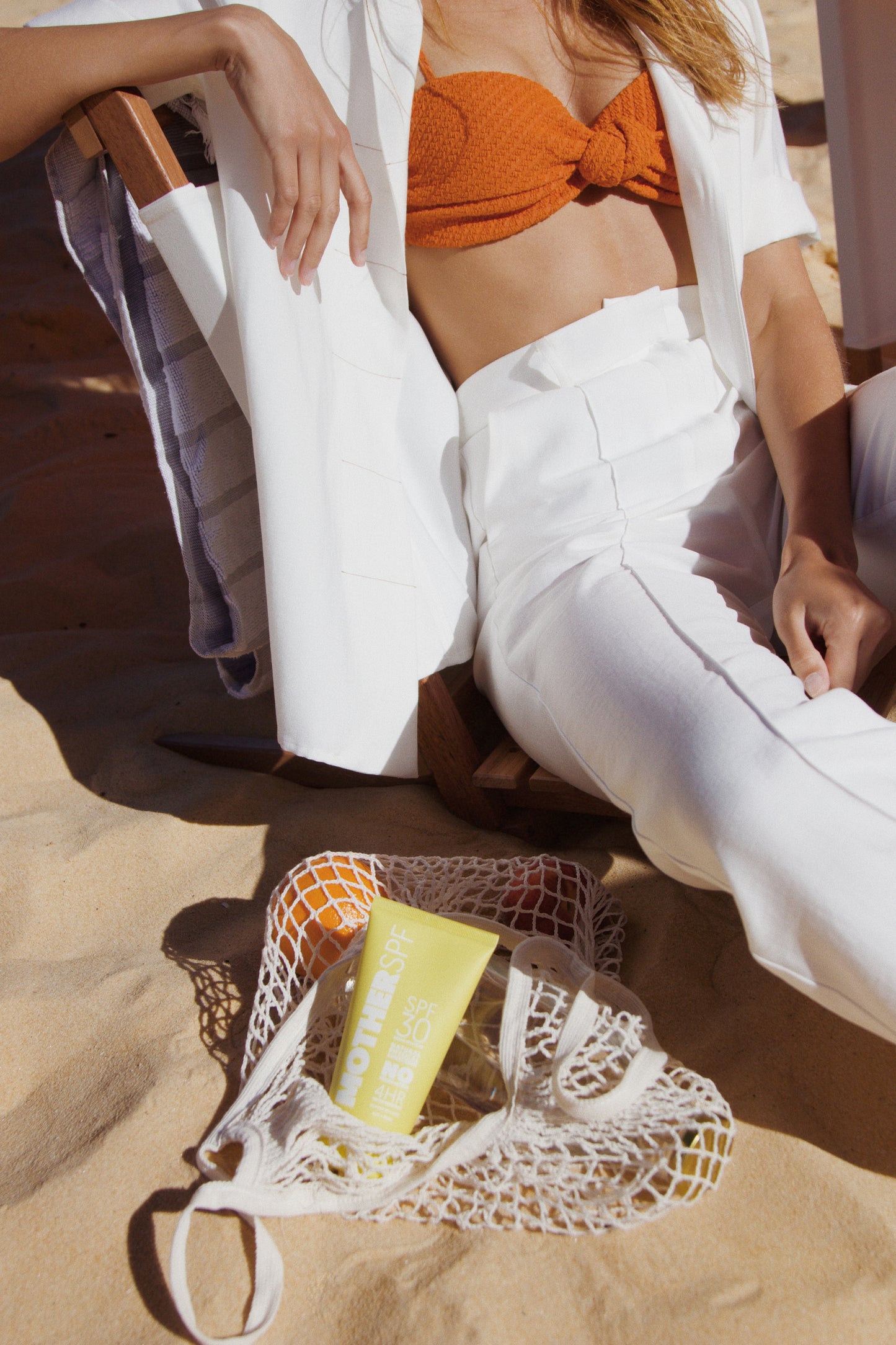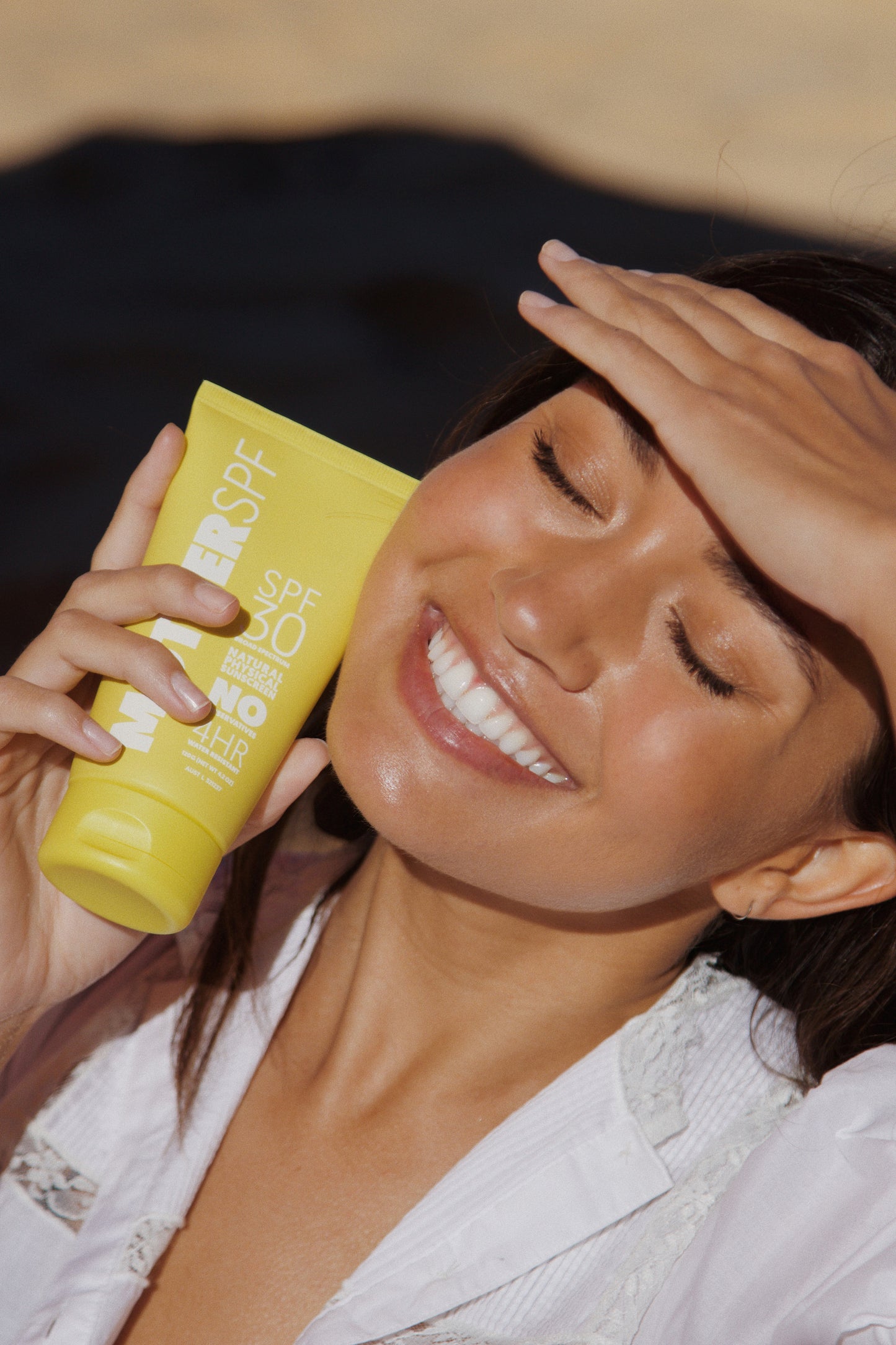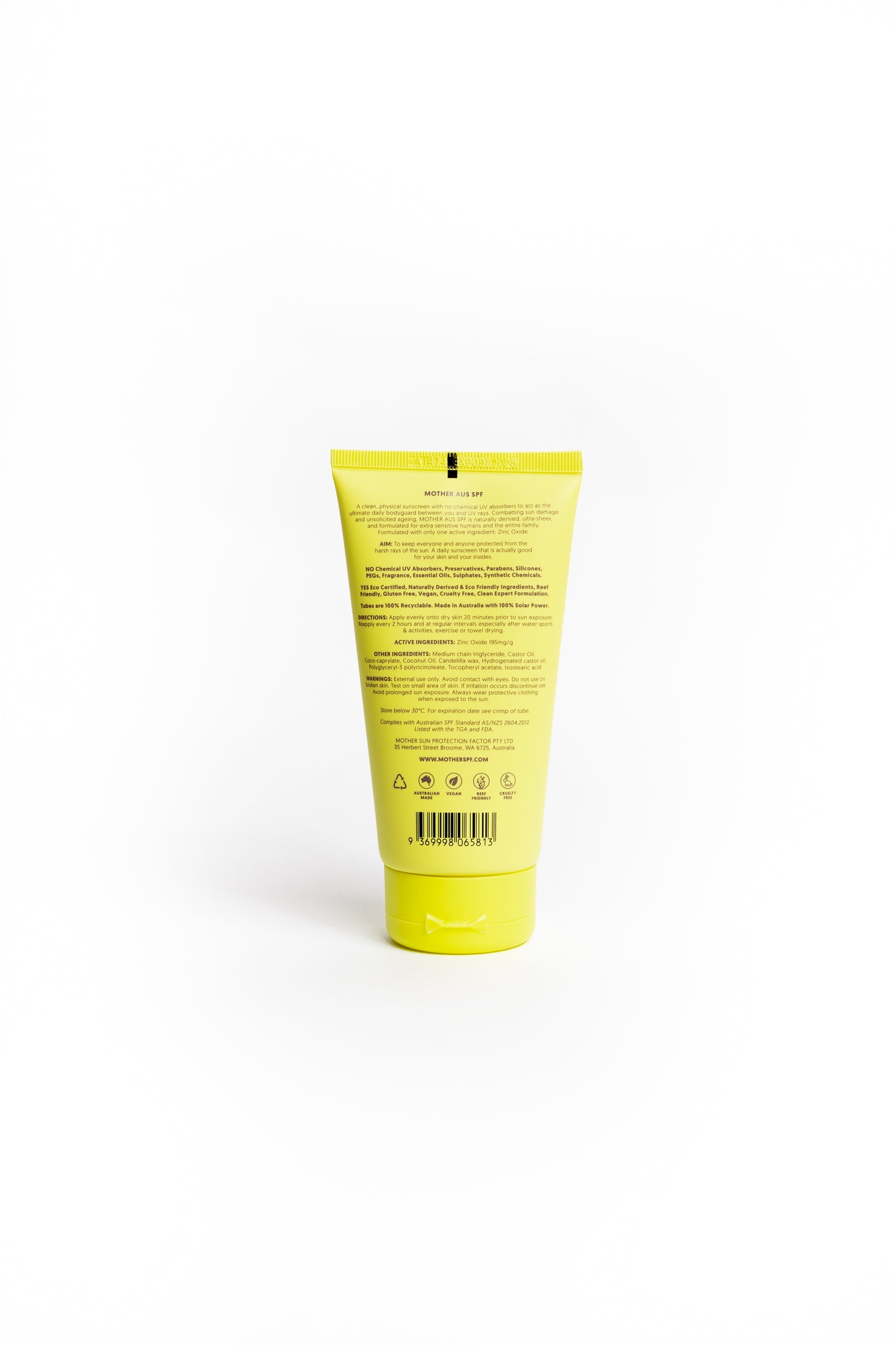 MOTHER SPF Mineral Face & Body Sunscreen SPF30 (120g)
Our star active ingredient (Non Nano Zinc Oxide) provides superior Broad Spectrum protection against UVB and UVA rays. Zinc Oxide is also an anti-inflammatory powerhouse and nutrient rich mineral that is Reef Friendly and 100% photostable (AKA never breaks down in the presence of sunlight).

Formulated with eco certified ingredients, skin loving botanicals including high strength antioxidants to prevent free radical damage - giving you a strong SPF and so much more. MOTHER will leave your skin feeling nourished and enroute to glow-town!

Our specialised zinc dispersion technology ensures the product is a daily delight to wear, meeting the appearance and cosmetic desire of a mainstream sunscreen while using only 100% clean, premium ingredients that don't compromise on results or application.

MOTHER SPF is safe for all skin types including sensitive and acne-prone skin. Our use of clean natural ingredients and expert formulation ensures this. MOTHER SPF has been formulated with high quality natural oils and will not disrupt the skins micro biome, keeping your sebum glads regulated and your skin happy.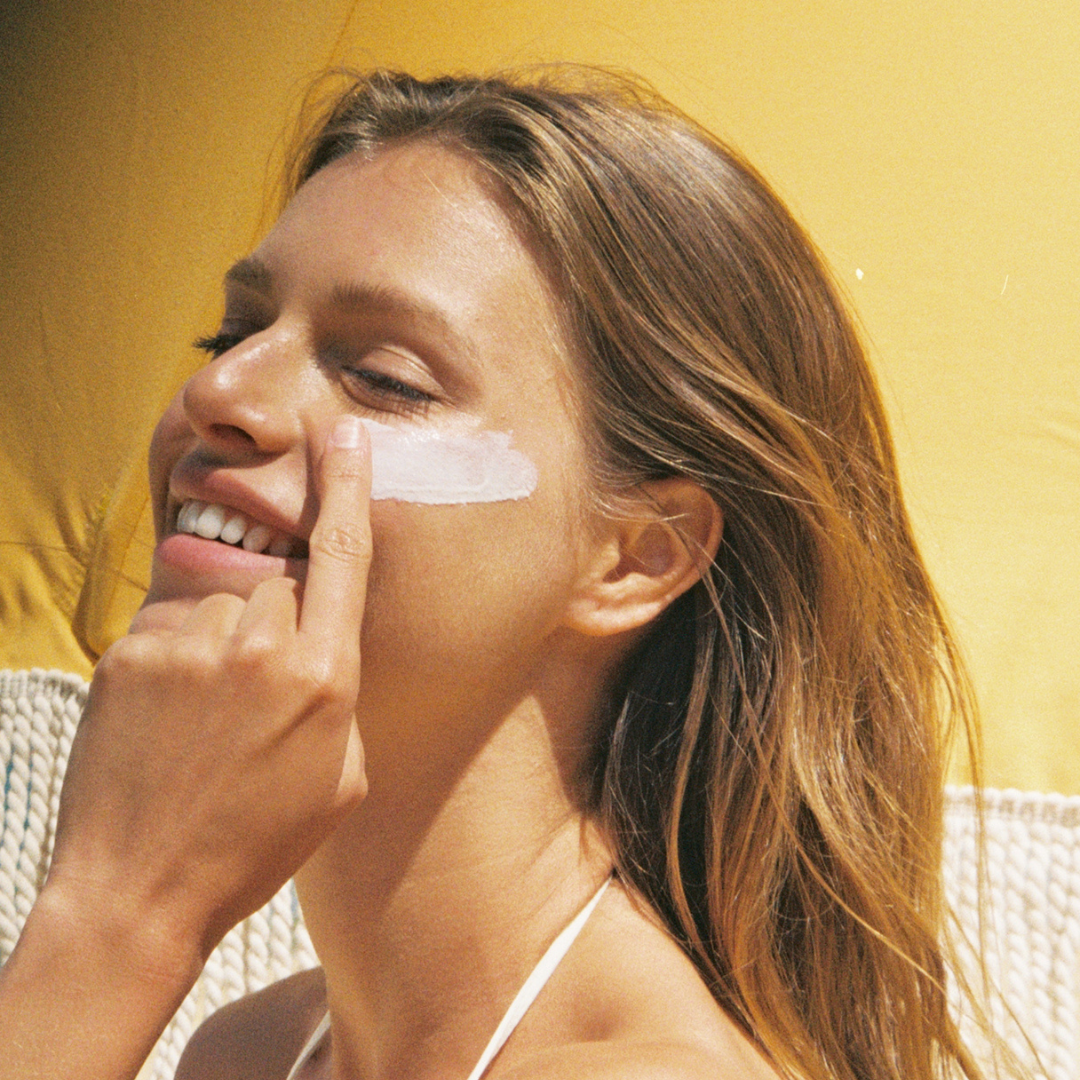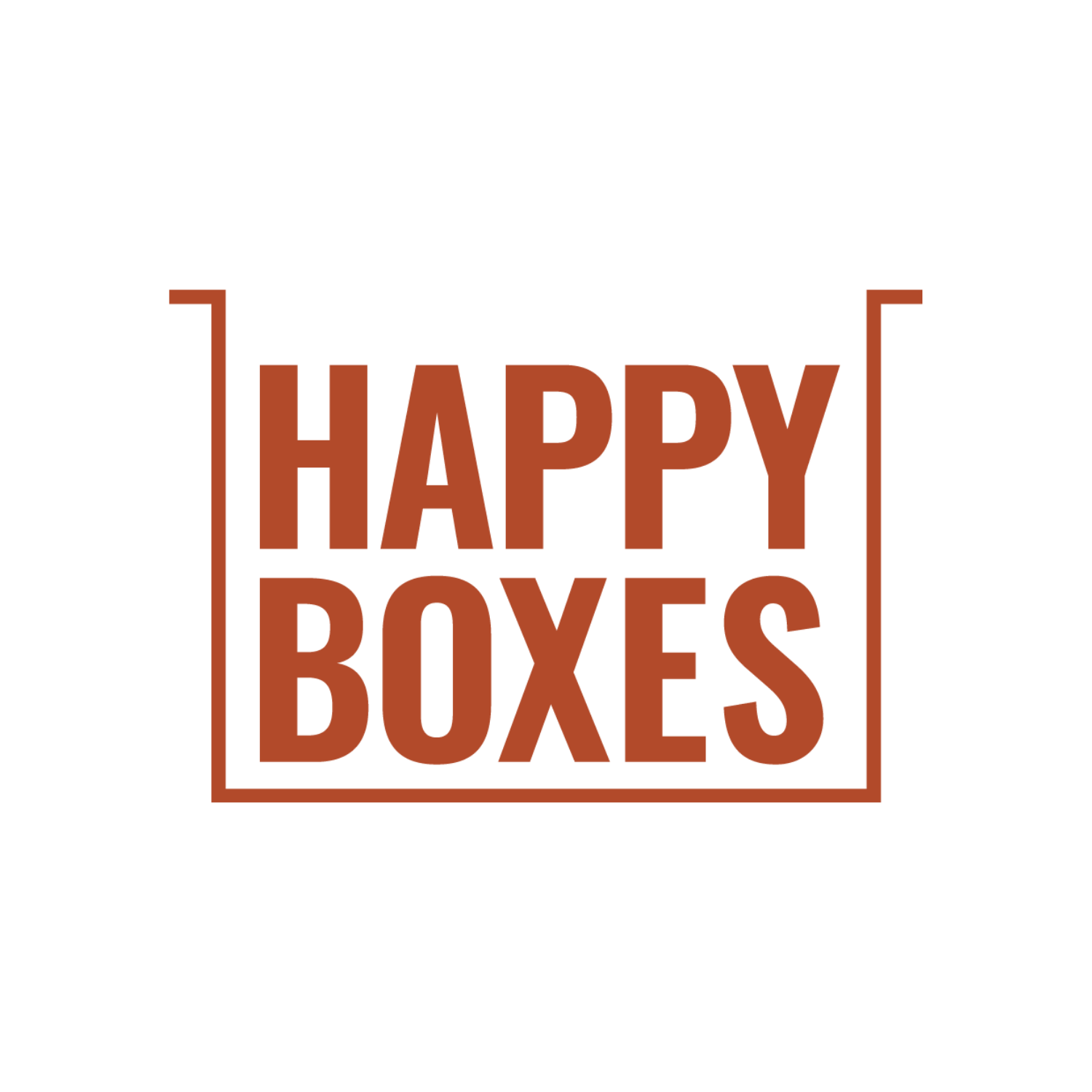 Giving back
$1 from every order is donated to Happy Boxes Project. A beautiful organisation that supports Aboriginal and Torres Strait Islander women and young girls through providing self-care packages and alleviating the barriers of accessing basic needs in remote communities. Visit Happy Boxes to find out more.
Choosing a selection results in a full page refresh.
Opens in a new window.